It was an honor to be a part of the Kuʻu Punahou: Campaign for Punahou School at The Glass Houses in New York. Besides the joy of meeting and jamming with Pal and Waileia Eldredge, it was fun comparing mutual friends and acquaintances. Thanks Punahou for hiring me for another fabulous event.
"Punahou today is not just an island community but a national and global community," said President Jim Scott '70 to approximately 75 supporters who had gathered in Chelsea, New York, to celebrate Kuʻu Punahou a comprehensive campaign to transform teaching and learning at Punahou School that was launched earlier this month.
"We felt it wasn't enough to celebrate this in Honolulu alone," he continued. "You have made it possible for us to reach this historic moment, and we wanted to share it with you in person. That's why we are also celebrating the launch of Kuʻu Punahou with our alumni and supporters on the East and West coasts, and with our supporters in Asia next month to reaffirm how broad and deep the Punahou 'ohana truly is."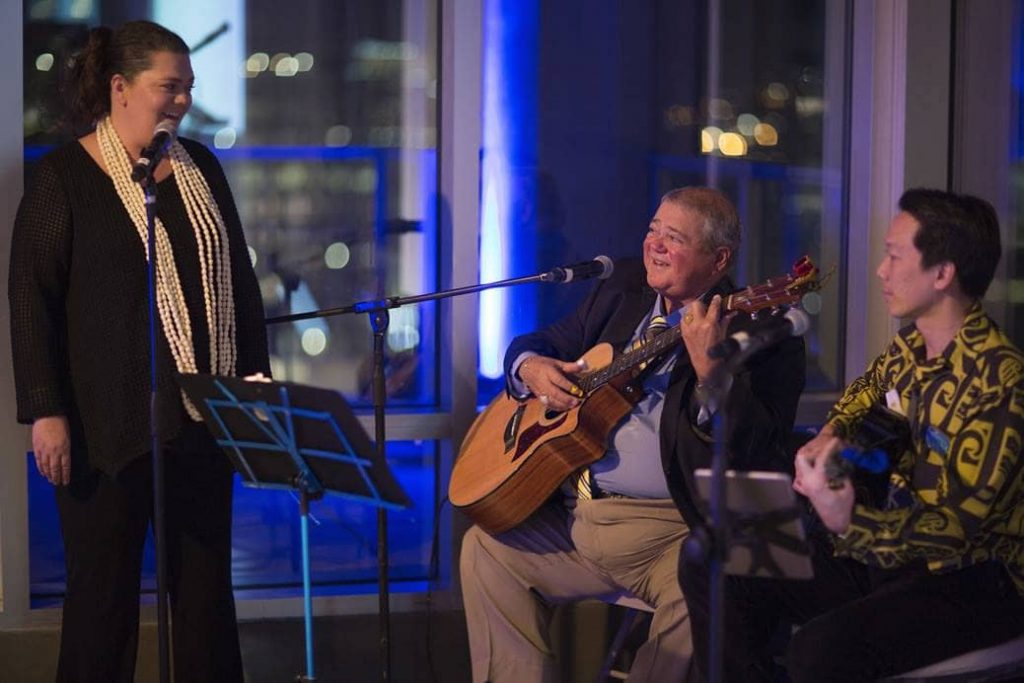 Woven throughout the program was the campaign theme Kuʻu Punahou, My Punahou underscoring the unique relationship each person has with the School. The combination of all those connections expresses the promise of Punahou and the power of education to transform lives.
Taking Ku'u Punahou to New York was a statement about how this campaign like the School today is of a national and global scope. In a counterbalance to its geographic expansiveness, the evening was grounded in a deep sense of place and cultural belonging: Scott opened the program by delivering the Punahou oli, followed by a moving hula kahiko performed by current Punahou students under the guidance of Holoku Co-Director Lauliʻa Phillips '99 Ah-Wong and Lia Sheehan '88.
"My Punahou is the people that make Punahou what it has been, what it is and what it will be," noted longtime New York resident Allen Murabayashi '90. "From the moment I set foot in Mrs. Healy's kindergarten class until the moment when Dr. Healy handed me my diploma, Punahou was a place that supported my individual growth both as a student and, more importantly, as an individual with passions that extended beyond the classroom."
Murabayashi was the first of six speakers who shared their personal expressions of "Kuʻu Punahou" before Scott described the campaign's aspirations to those present, thanking them for their support.
"We are here tonight to celebrate Punahou's future. But we are also here to honor you and to express our appreciation. A school with the caliber of Punahou's faculty and students will never be short of aspirations, but it is our extraordinary supporters that translate those aspirations into reality. Last Saturday by the waters of Ka Punahou, the Trustees and I announced a fundraising goal of $175 million, to be completed by 2020."
Guests were excited to learn that Punahou has raised over $93.5 million in gifts and pledges towards that goal.
Together with Scott, Punahou Trustees Debbie Berger '82, Ethan Abbott '72 and Kitty Wo '75 led a toast to the future of the School and the success of the campaign.
---