/HAWAIIAN MUSIC IN NEW YORK/
With family ties to the island of Oahu, Andy developed a love for Hawaiian music and the fingerstyle tradition of kīhoʻalu (slack key guitar.) For many years, he has returned to Hawaii to study with Hawaiian slack key guitar masters including Ozzie Kotani, Keola Beamer, George Kahumoku, Jr. and Raymond Kāne. Andy's Hawaiian name, Kūlana, was given to him by Hawaiian cultural authority, Auntie Nona Beamer.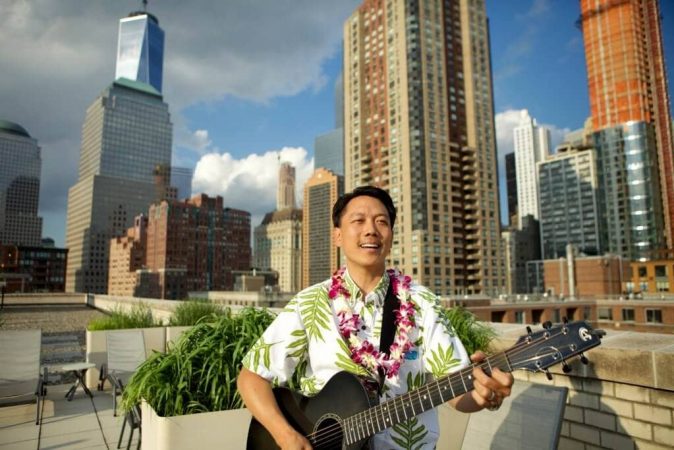 For over two decades, Andy has performed Hawaiian music, solo or with other musicians, in the New York tri-state area and beyond.
His performances in Hawaii include Pakele Live! at the Willows, Hawaii Public Radio's Atherton Theater, and the Japanese Cultural Center. 
On the East Coast, he has appeared as a special guest with "Hawaii's super group" HAPA at the Highline Ballroom (NY), Narrows Center for the Arts (MA), and Kaye Playhouse (NY). He toured with the Hawaiian Slack Key Guitar Festival at Wolf Trap Barns (VA), SubCulture (NY), and Dennis Flyer Memorial Theatre (NJ).
He plays music for Vicky Holt Takamine's Pua Aliʻi ʻIlima in New York and has performed with the group at Kennedy Center Millennium Stage, La Mama ETC, and Jacob's Pillow.
Hyatt Regency Waikiki Beach Resort and Spa
Hawaii Restaurant Association (Stryker Weiner & Yokota)
Kohala Coast Resort Association
BNY Mellon
Columbia University
Kutztown University
Boston University

Woodstone Country Club and Lodge

Hawaii Captive Association

New York Botanical Garden
Cablevision
University of New Haven
American Museum of Natural History