It was fun playing Hawaiian music at Friday night's Urban Lū'au with Chefs Robynne Maii, Nick Anderer, and Tony Liu. It was an honor to perform at another James Beard event and the new space at Pier 57 is fabulous.
It's the first time in 19 years the prestigious James Beard award has been bestowed upon a Hawaiian chef or restaurant since George Mavrothalassitis of the former Chef Mavro restaurant won the regional best chef award in 2003. Chef Robynne is the first woman of Hawaiian ancestry to ever receive the honor.
The featured food from Fête was amazing and the mai tais flowed. Few things are better than breaking bread with old friends and new. I'd happily hang out  with these local chefs and their friends any time. It was delicious.
The surprise of the night was playing Ka ʻUluwehi O Ke Kai for Chefs Chef Robynne Maii and Emily Iguchi to dance hula.
Please invite me again!
The James Beard Foundation (JBF) is excited to announce the launch of the chefs-in-residence program at Platform by James Beard Foundation (Platform by JBF) in New York's Pier 57 beginning this May. Themed "Road to the Red Carpet," and presented by Capital One, the inaugural lineup of May programming will feature an all-star selection of 2022 James Beard Award winning chefs including: Robynne Maii, 2022 James Beard Award Winner for Best Chef: Northwest and Pacific (Fête, Honolulu); Sean Sherman, 2022 James Beard Award Winner on behalf of Outstanding Restaurant (Owamni, Minneapolis); Brandon Jew, 2022 James Beard Award Winner for Best Chef: California (Mister Jiu's, San Francisco); and Cristina Martinez, 2022 James Beard Award Winner for Best Chef: Mid Atlantic (South Philly Barbacoa, Philadelphia).
Platform by JBF is a brand new, state-of-the-art show kitchen, event space, and educational hub for outstanding culinary arts programming located in the newly launched Market 57 food hall—a partnership with Google and Jamestown—at New York City's reimagined Pier 57 in Hudson River Park.
CHEF-IN-RESIDENCE WEEK 1
May 2-May 6, 2023
Robynne Maii
2022 James Beard Award Winner for Best Chef: Northwest and Pacific (Fête, Honolulu)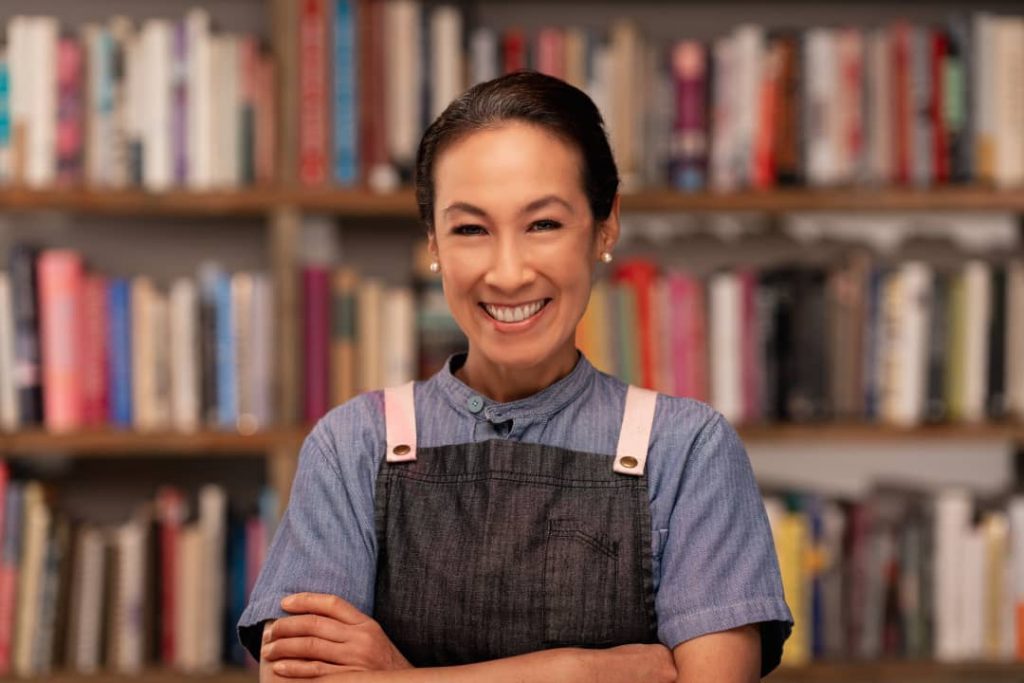 Born and raised in Honolulu, Robynne Maii is the chef and owner of award-winning restaurant Fête in Honolulu's Chinatown along with Heyday at the historic White Sands Hotel in Waikīkī. Robynne is a proud alumna of Punahou and 'Iolani School, and then pursued modern dance and English at Middlebury College before obtaining culinary and pastry arts degrees at Kapi'olani Community College. She began her culinary adventure at Kaimuki's 3660 on the Rise, cooking under Chef Russell Siu and Padovani's Bistro and Wine Bar, in Waikīkī, where she transitioned to a full-time pastry cook under Chef Pierre Padovani before leaving to New York for graduate school.  After earning her master's degree in food studies from New York University, Chef Robynne went on to work at Union Pacific and the WaldorfAstoria Hotel in New York. Robynne has also worked for Gourmet Magazine, Kitchen Arts & Letters Bookstore, and played an integral role in developing and teaching the culinary program at The Art Institute of New York City and CUNY's Kingsborough Community College. Robynne is also a member of the 2023 U.S. State Department's American Culinary Corps and a former James Beard Foundation Chef Bootcamp for Policy and Change alumni.
Featured Events:
Tuesday, May 2, 2023 – 6:00 to 7:00 P.M.
Building Our House: Dismantling the Kitchen Brigade System
A conversation with Robynne Maii, moderated by journalist Sofia Perez
Thursday, May 4, 2023 – 7:00 to 10:00 P.M.
Honolulu to the Hudson: A Dinner with Fête
Friday, May 5, 2023 – 7:00 to 10:00 P.M.
An Urban Lū'au with Chefs Robynne Maii, Nick Anderer, and Tony Liu
Saturday, May 6, 2023 – 10:00 A.M. to 12:00 P.M.
Hawaiian Kanpachi Class: Raw. Grilled. Salt-Cured.
Sponsors
Platform by JBF is made possible thanks to the support of founding kitchen partners who generously provided state-of-the-art equipment and technology to bring Platform by JBF and Good To Go by JBF to life including: BentoBox, Blodgett, Clover, Ecolab, Jade Range, Manitowoc, Middleby, Perfect Fry, True Refrigeration, and TurboChef. Platform Purveyors support the operations at Platform by JBF on an annual basis providing product and support for our Chefs In Residence and related programming and include: Anchor Hocking Company, FOH®, Gourmet Settings, Great Performances, HexClad, Lavazza Coffees, Lyre's Non-Alcoholic, McCormick for Chefs, OXO, S.Pellegrino® Sparkling Mineral Water, Skuna Bay Salmon, Sysco, TABASCO® Brand, Tilit, Tuxton Cookware, and VerTerra. The James Beard Foundation is also supported by official partners American Airlines, the official airline of the James Beard Foundation; Capital One, the official credit card and banking partner of the James Beard Foundation; and Windstar Cruises, the official cruise line of the James Beard Foundation.
About the James Beard Foundation
The James Beard Foundation (JBF) is a 501(c)3 nonprofit organization that celebrates and supports the people behind America's food culture, while pushing for new standards in the restaurant industry to create a future where all have the opportunity to thrive. Established over 30 years ago, the Foundation has highlighted the centrality of food culture in our daily lives and is committed to supporting a resilient and flourishing industry that honors its diverse communities. By amplifying new voices, celebrating those leading the way, and supporting those on the path to do so, the Foundation is working to create a more equitable and sustainable future—what we call Good Food for Good®. JBF brings its mission to life through the annual Awards, industry and community-focused programs, advocacy, partnerships, and events across the country. For the first time in the Foundation's history, exceptional culinary talent, industry leaders, and visitors from NYC and beyond can experience unforgettable dining and educational programming at Platform by the James Beard Foundation—and be the first to try new food concepts at the Good To Go by JBF kiosk—inspiring food and beverage devotees for decades to come. Learn more at jamesbeard.org, sign up for our newsletter, and follow @beardfoundation on social media.
---